THE STORY OF BETH 
Bethanee Hamilton – previously known as Princess – was found discarded and abandoned on the side of the road on the outskirts of Portland, Oregon.
Unclaimed, Beth was sent by the pound to the local shelter where, while undergoing a routine spaying surgery, she flatlined. 
Miraculously... She came back to life.
Shortly after, the ever-so-loving Pacific NW Bulldog Rescue stepped in.
The PNWBR's mission is to rescue, rehabilitate and re-home English & French bulldogs that come from commercial breeding kennels, public shelters, private rescue groups, owners and good samaritans.
PNWBR took Beth in for a checkup after they had discovered her back left paw was rapidly swelling and eventually bleeding. It was confirmed that Beth had a cancerous mast cell... 
The only cure was to remove the leg.
By chance, her now owner, Lindsay, saw a post on Facebook requesting donations to fund the operation. Heart duly melted – and despite hundreds of folks ahead of her in line requesting to adopt this sick little pup – Lindsay decided to apply.
"I wasn't in the market for a dog, but when I saw that post, I was done. I would do whatever necessary to get that pup!"​
The rescue was looking for someone who was able to give non-stop attention to this special pup. As a freelance designer, Lindsay has a flexible schedule, and Beth tags along with her daily duties that include anything from client meetings, to grocery shopping.
​Adopting Bethanee just a month after her surgery, Lindsay decided to create an Instagram account under the name "PardonThyFrench" to document Beth's recovery - and all the creative adjustments that balancing a new tripod stance would require.
Quickly learning that Beth has a rather large personality, the followers swiftly came… PardonThyFrench now has over 180K followers and rising. Beth has been spotlighted on Good Morning America, Men's Health Magazine, the Huffington Post, and even international TV!
Riding high on this new found fame, Beth and Lindsay have set out to give back by promoting awareness on issues such as pet adoption, particularly the adoption of pets with special needs through the continued support of Pacific NW Bulldog Rescue and their second instagram, Misfits of IG (@misfitsofig). Misfits of IG highlight pets who've overcome adversity and are now living life to its fullest!
To top things off, they have partnered with DoveLewis Emergency Animal Hospital in Portland, Oregon to aid in their Emergency Vet Fund. Our best friends deserve all the help they can get. Through donations, and website proceeds the PardonThyFrench hopes to alleviate some of the pain by providing medical bill assistance for unforeseen pet accidents.
DOVE LEWIS ANIMAL HOSPITAL + BETH
Unforeseen accidents happen and medical bills are high, our best friends deserve all the help they can get. 

Together, we can be heroes. We're dedicated to helping get all animals the care they deserve, and we've partnered with DoveLewis Veterinary Emergency & Specialty Hospital, A nonprofit in Portland, Oregon.
DoveLewis cares for animals and the people who care for them. Always. Our Velvet Assistance Fund is a financial aid program that helps families cover the cost of their pet's emergency treatment. Your gift can help a family focus on the health and happiness of their four legged family member, not their medical bill.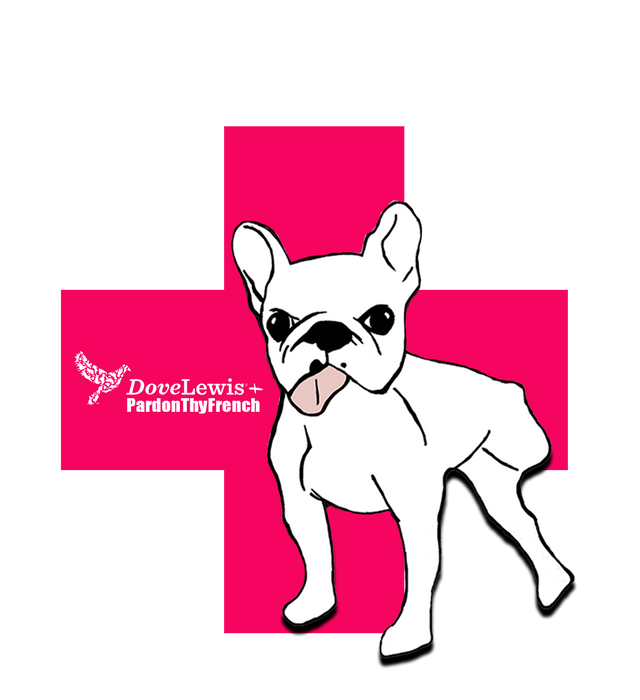 EVENTS WITH PARDON THY FRENCH
We love to host charity events where people can come and meet Beth while supporting different rescues and small vendors. Check out this one from The Malibu Cafe at the Calamigos Guest Ranch!